Fighting Rabies, One Hero at a Time
Dr. Sergio Recuenco organizes a crew in Guatemala to test bat brains for signs of disease. Meanwhile, in India, Rachel Wright teaches children how to live safely with dogs and prevent dog bites. The two researchers may be nearly 10,000 miles apart, but they are fighting the same battle: to eliminate rabies.
"Rabies is one of the oldest and deadliest diseases on earth," says Alasdair King, Director, MSD Animal Health International Veterinary Health Team. "Each year, 59,000 people die from rabies, even though it is highly preventable through routine vaccination."
Because of the devastating impact of rabies on humans and animals, our company has a long history of supporting research on rabies control and mass canine vaccination in high-risk regions where vaccination is often inaccessible. As of 2019, we have donated three million doses of our rabies vaccine to areas in need.
To further demonstrate our company's ongoing commitment to help eliminate rabies worldwide by 2030, we recently launched the Rabies Hero Awards, recognizing those who are making a difference in the fight against rabies.
What are "Rabies Heroes"? They come in many forms. They lead research to help the world better understand the disease and work to introduce new policies at government and international levels to protect people and animals. They teach children how to live safely with dogs and work with minimal resources to ensure dogs are vaccinated.
"Their jobs may vary, but one thing is clear," says Alasdair. "Without these heroes, we would not stand a chance of winning the battle against rabies."
The first five recipients of the Rabies Hero Awards were celebrated earlier this year. In the last few months we recognized six additional individuals who made a difference in the fight against rabies through the Rabies Hero Awards. Below you can read more about the latest recipients, who stand up and stand out.
Vittoria Sogno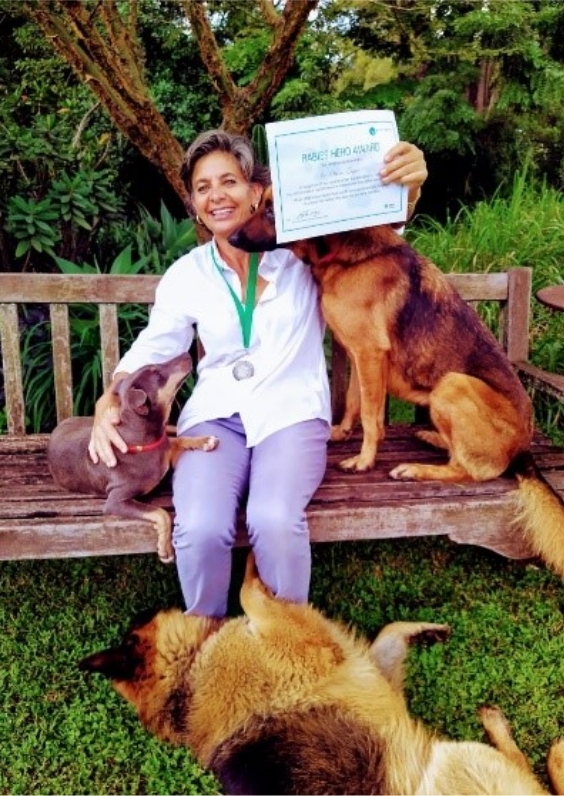 Vittoria Sogno, co-founder of Animal Welfare ILHA on the island of Mozambique, is a recipient of a Rabies Hero Award for her work educating local populations and creating awareness of the plight of animals on the island. After noticing poor attitudes towards dogs in the community, Vittoria sought a way to make change. Now, every dog that has been sterilized receives a beaded collar to indicate that the animal is not a threat. The initiative has been successful in reducing dog bites and improving attitudes surrounding dog populations in the area over the last several years.
In the past, people were stoning and beating dogs. They had no idea how these animals could become an integral part of their daily lives. In comparison, today dogs roam the streets and beaches of Mozambique freely. They are happy, loved and well cared for. The majority of requests for rabies vaccinations now comes from the local population.
"For AWI, this change in attitude is the most gratifying part of our work," commented Vittoria.
Dr. Felix Lankester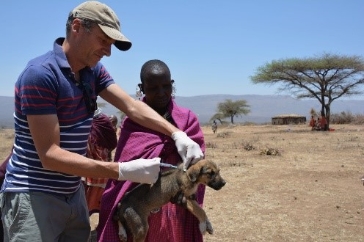 Dr. Felix Lankester, Assistant Professor at the Washington State University Paul G. Allen School for Global Animal Health and Director of Rabies Free Tanzania has been named a Rabies Hero for his innovative work in rabies control to save the lives of both animals and people. Based in East Africa, Dr. Lankester has led rabies control efforts that have changed mindsets about treating rabies to save human lives. His research interests include investigating novel methods of rabies vaccine delivery.
"Rabies is the most lethal infectious disease known to man," asserts Dr. Lankester. "It kills over 60,000 people every year, mostly children, and it is spread by our best friend, the domestic dog. As a vet, I feel it is my profession that should lead the way in ridding the world of this horrific disease. And we can easily achieve this by vaccinating our dogs."
Dr. Lankester's work has focused on new ways to increase rabies vaccination efforts in determination to control rabies around the world.
Dr. Luke Gamble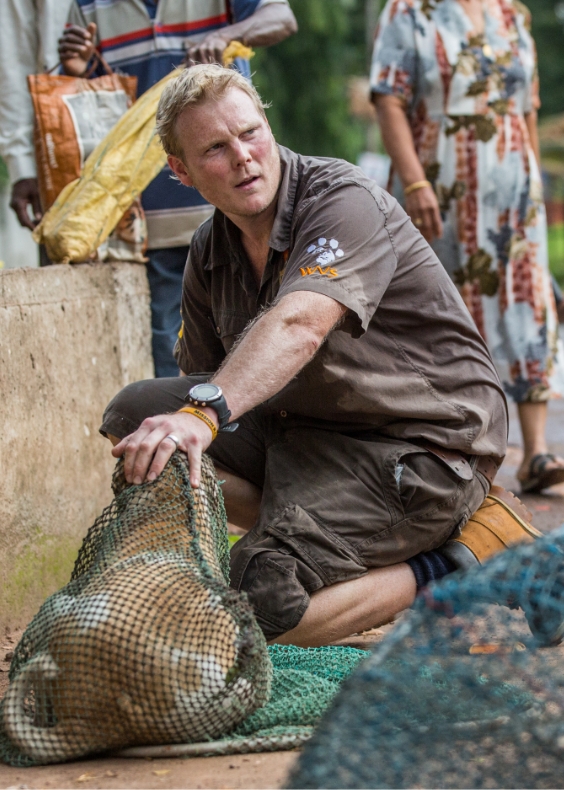 Dr. Luke Gamble, Chief Executive Officer of the Worldwide Veterinary Service (WVS) and Mission Rabies, receives a Rabies Hero Award for his passion for animal welfare and rabies control. From the launches of WVS India and WVS Thailand and their international training centers, to the Mission Rabies project to eliminate rabies from Malawi and the Indian State of Goa, Luke has worked tirelessly campaigning for the health and welfare of animals across the globe.
"Being part of an incredible team that champions for both the animals and people who are impacted by this terrible disease has been one of the most fantastic and humbling opportunities of my career. Rabies affects the most vulnerable people in some of the poorest places in the world. The realization that we can beat it, fuels the fire to power forward and do as much as we can in the time we have."
Louis Nel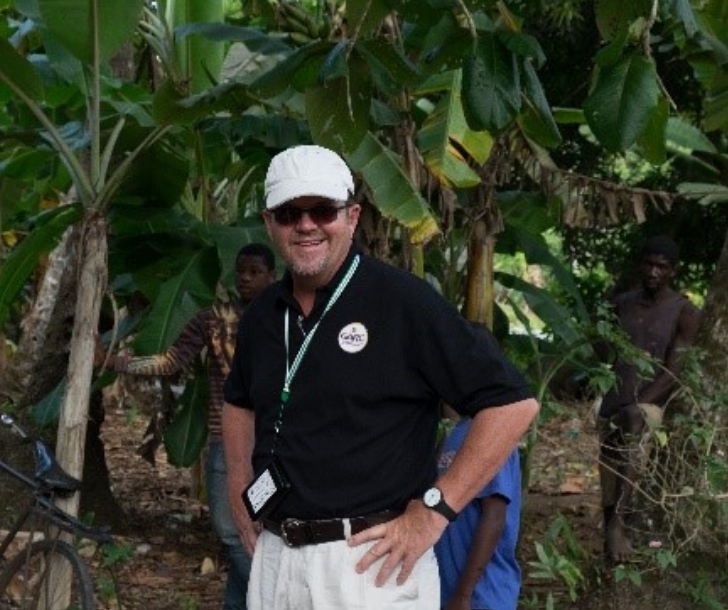 Louis Nel, Professor in the Department of Biochemistry, Genetics and Microbiology at the University of Pretoria in South Africa and Executive Director for the Global Alliance for Rabies Control (GARC), receives a Rabies Hero Award for his demonstrated dedication towards the prevention, control and eventual elimination of rabies. Under Nel's leadership, GARC and his team at the University of Pretoria, along with their global contributors, have founded the Pan African and Asian Rabies Control Networks, PARACON and ARACON, respectively, as well as the Middle East, Eastern Europe and Northern African Rabies Control Network (MERACON).
Louis believes strongly in the roles of the international community and national governments — working together — to eliminate rabies for both the health of dogs but also humans.
"The elimination of dog-mediated human rabies is an ambitious goal, which would not only put an end to one of the world's oldest, deadliest and ugliest zoonoses, but also supports the modern-day One Health concept," comments Louis.
Daniel Stewart
Daniel Stewart, dog behaviorist and handling expert, is recognized as a Rabies Hero Award recipient for his work with teaching people how to safely interact with dogs. Daniel teaches proper animal handling techniques, which has contributed towards reduced dog bite injuries. Daniel also emphasizes changing people's attitudes towards dogs, pushing the focus away from them being seen as the 'bad guy' in rabies spread and encouraging healthy relationships between humans and dogs.
"I am passionate about having communities see that dogs are as much the victims of this terrible disease as people. It is very easy for communities to blame dogs for spreading rabies and as a result their welfare often suffers. This is a great opportunity to educate and enlighten countries and individuals alike, to demonstrate that by improving their relationship with dogs they can, in fact, eliminate rabies within a community," stated Daniel.
Kevin le Roux
Kevin le Roux is the Rabies Project Manager for the KwaZulu-Natal Department of Agriculture, Environment and Rural Development in South Africa. Kevin is the recipient of a Rabies Hero Award for his work in rabies education, as well as community outreach and engagement.
"We have all the tools and the evidence that dog vaccinations are the answer," comments Kevin. "The solution lies in the implementation of effective campaigns, which is about people, as well as government and community support for those awareness efforts."
Dr. Sarah Cleaveland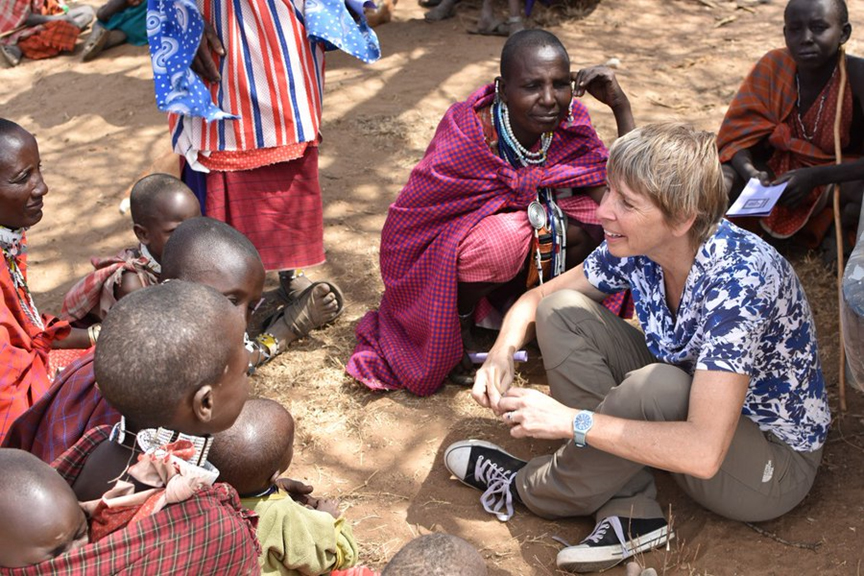 Dr. Sarah Cleaveland is well-known in her field for her passion and commitment to saving people from disease. She is the founder of the Afya Foundation and professor of Comparative Epidemiology, Institute of Biodiversity, Animal Health and Comparative Medicine, University of Glasgow.
"I'm deeply honored to receive this award, which reflects the work of so many people committed to eliminating rabies from the world," says Dr. Cleaveland. "However, I'm baffled that more than 100 year after Louis Pasteur developed the first rabies vaccines and after extensive research to show that rabies elimination is feasible, how can it be true that so many people are still suffering such horrifying deaths from a disease that is so preventable? The veterinary profession has many responsibilities, but we have to find a way to scale up mass dog vaccination. What can be more important than protecting millions of the most vulnerable people in the world from such a terrible disease?"
Our company's commitment to rabies research dates to 1996 when we supported supporting a research project led by Dr. Cleaveland. The project demonstrated that the transmission of rabies could be controlled and eventually eliminated by vaccinating domestic dogs in the Serengeti, protecting wildlife, domestic animals and local villagers.
Dr. Renée van Rheede van Oudtshoorn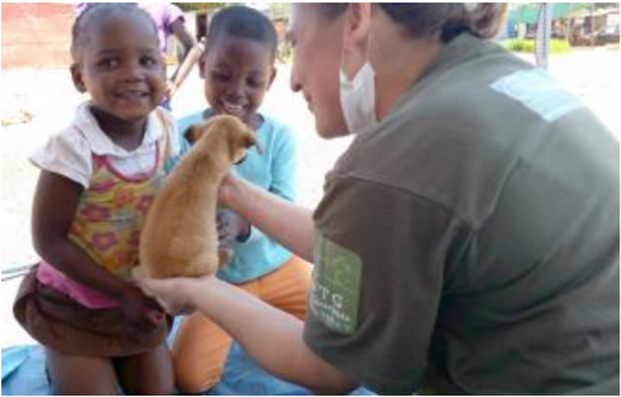 Dr. Renée van Rheede van Oudtshoorn is a recipient of a Rabies Hero Award for her work with the Community Veterinary Services for Southern Africa. Working in villages and towns in South Africa, Zimbabwe and Botswana, Renée regularly manages rabies campaigns, providing free sterilizations and vaccinations to the animals in poor rural areas where access to veterinary care is limited. Renée has worked to protect people for over a decade, empowering communities against rabies.
Rachel Wright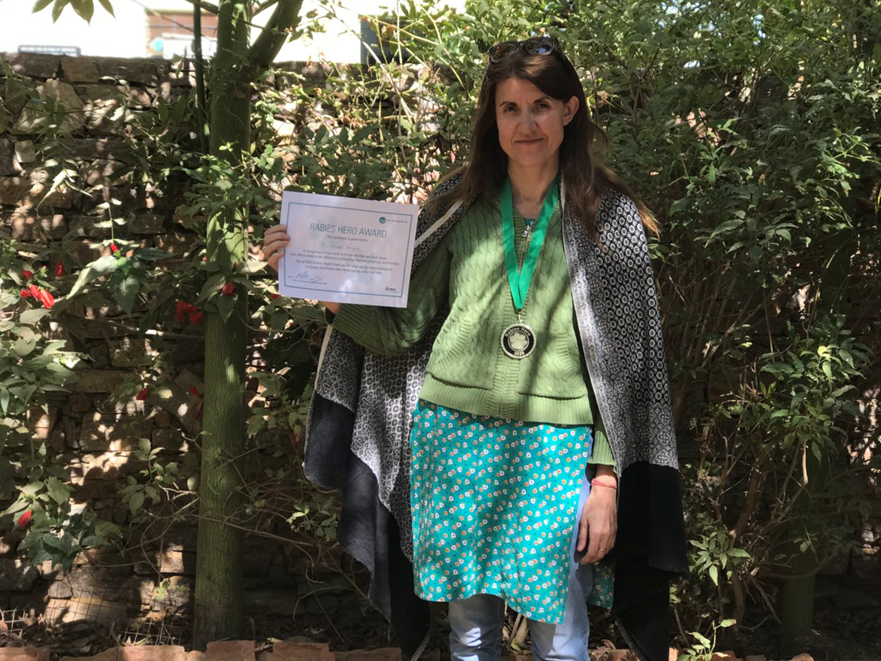 Rachel Wright receives a Rabies Hero Award for her dedication to the Tree of Life for Animals (TOLFA) charity based in India. Rachel founded TOLFA in 2005. She educates local children and rural communities about the benefit of rabies vaccinations for animals and people and teaches dog bite prevention and first aid. As a part of these efforts, Rachel liaises with local humanitarian nongovernmental organizations and schools, so that when rabid dog bites are reported, a smooth rescue operation is in place, and the affected community members receive rabies vaccinations.
"India has the highest number of rabies cases of anywhere in the world, mostly due to the high level of stray dogs living on the streets," says Rachel. "Seeing a dog with rabies can be a part of people's everyday life, and even as a trained veterinary professional, it can be a devastating and terrifying experience. Over the last 15 years with TOLFA working in this area, it has been amazing to see how people's perceptions of the dogs are changing from a fear-based attitude to being kinder and more friendly toward them."
Dr. Sergio Recuenco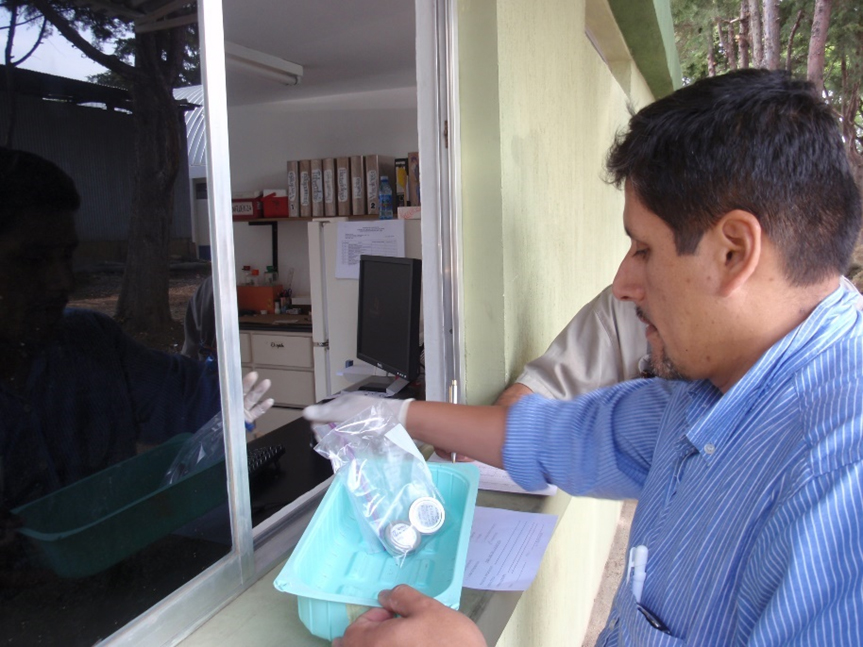 "Rabies deaths are avoidable," says Dr. Sergio Recuenco, another recipient of a Rabies Hero Award. He has campaigned passionately for the indigenous people of the Peruvian Amazon and is a leader in the field of rabies being transmitted via vampire bats.
"The fact that people still die with this disease in the 21st century, when all tools to prevent it are known and available, is the most powerful indicator of unacceptable global health disparities," he says.
Dedan Ngatia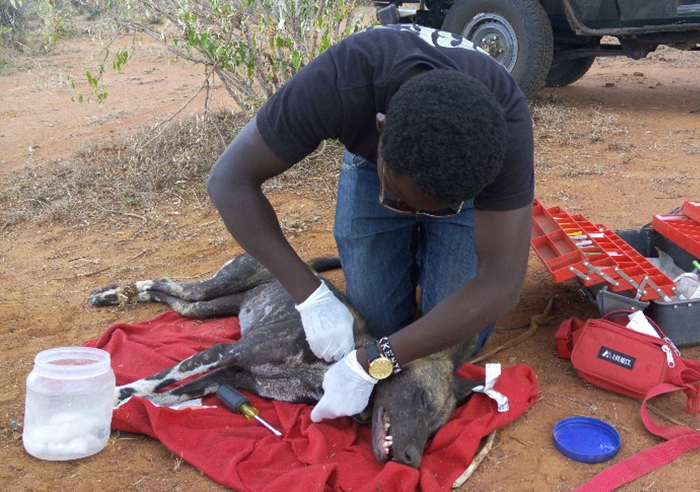 Dedan Ngatia has been a key leader in the Laikipia Rabies Vaccination Campaign (LRVC) with its annual mobile, free rabies vaccination clinic. He also is among the first recipients of a Rabies Hero Award.
The LRVC serves as a pilot for rabies elimination throughout Kenya. Dedan has worked side-by-side with community leaders, businesses and the county government to teach lessons to adults and youth in village meetings, schools and online forums. Most people in Laikipia County are pastoral, which means they own many dogs to help them defend and herd their livestock. There is a high level of mixing between humans, domestic dogs and wildlife, which creates an environment where rabies outbreaks are frequent and devastating for both people and endangered wildlife. In addition, Dedan has developed programs alongside community leaders to educate the people of Laikipia on rabies awareness, prevention and best practices for caring for dogs and cats.
Dedan has greatly expanded the number of dogs and cats treated through the LRVC and helped grow the number of communities reached by the campaign. Since the effort began in 2015, about 30,000 rabies vaccinations have been administered to dogs and cats in Laikipia county. An estimated 300,000 people have benefited from the vaccination of these animals.
You can follow news about the Rabies Hero Awards on the MSD Animal Health Twitter accounts, using the hashtags #RabiesHero, #EndRabiesNow and #ZeroBy30.