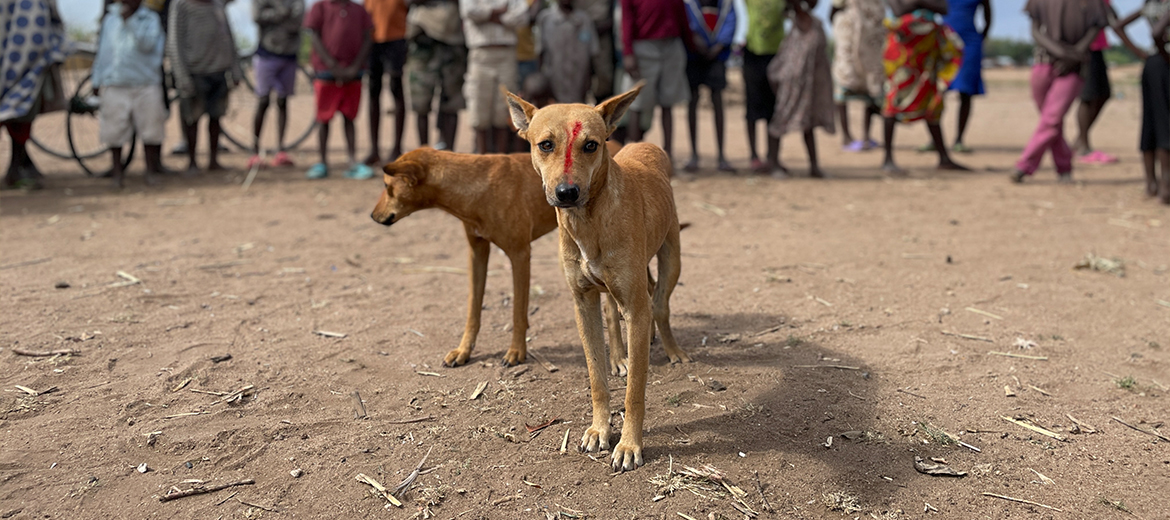 Eliminating Rabies
Rabies Outbreaks Are 100% Preventable – Through Effective Vaccination Programs
World Rabies Day is September 28, 2022, and this year marks MSD Animal Health's milestone of donating more than five million doses of our NOBIVAC® Rabies vaccine to help eliminate canine-mediated rabies. Through our long-standing Afya Program, we're celebrating this milestone with our non-profit partners Mission Rabies and Rabies Free Africa, who administer the vaccine to dogs via mass vaccination campaigns in areas of the world where rabies is still endemic.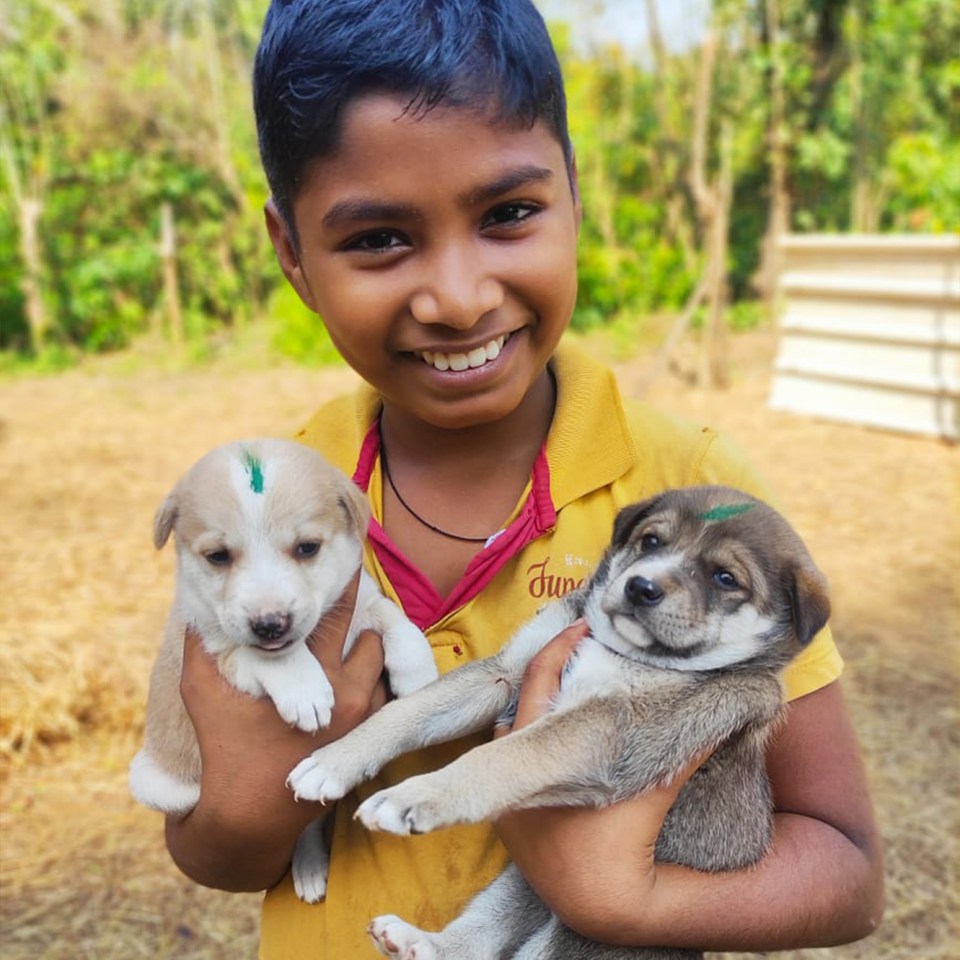 "Mission Rabies has now vaccinated nearly two million dogs through MSD Animal Health's Afya program with donated doses of their NOBIVAC Rabies vaccine. With only eight years left to achieve the global goal of zero dog-mediated human rabies deaths by 2030, we are focused on supporting rabies-endemic communities across India and beyond who lack adequate access to vaccines and other resources. This ongoing donation of life-saving canine rabies vaccine will help us to achieve that 2030 goal as we work with the global community to eliminate human cases of canine-transmitted rabies."
– Luke Gamble, BVSc, DVM&S, FRCVS, founder, Mission Rabies
Rabies Continues to be a Serious Health Issue
Rabies kills an estimated 59,000 people each year, with almost half of them children under 15 years of age, in part due to limited access to resources and vaccines in communities where rabies outbreaks continue and often education about rabies is low.[i] Globally, the economic burden of dog-mediated rabies is estimated at U.S. $8.6 billion per year.[ii]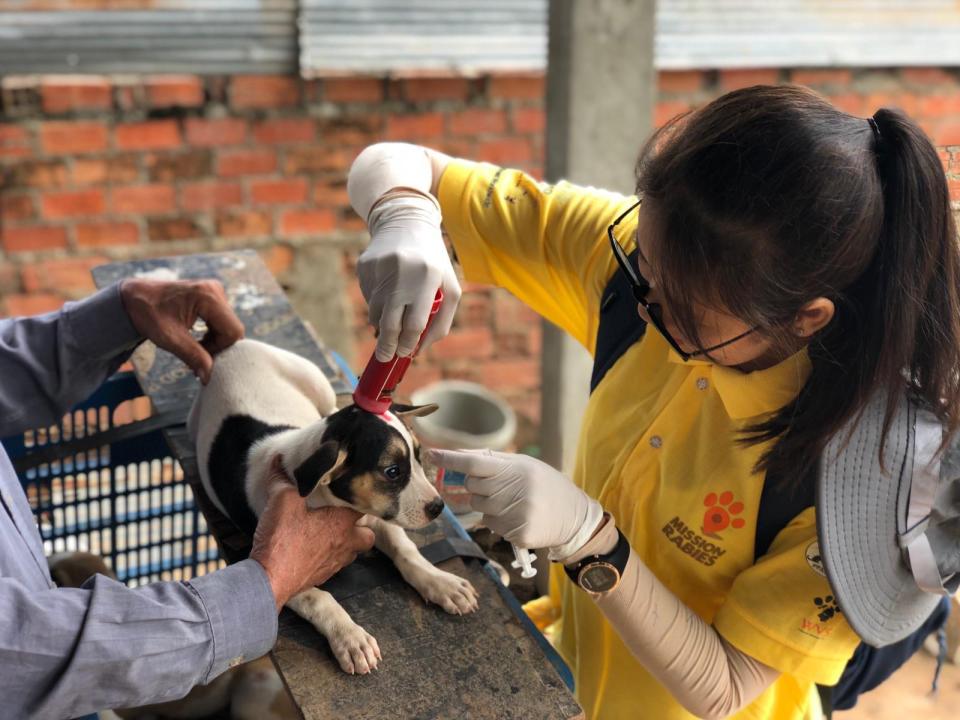 "Working collaboratively with MSD Animal Health, Rabies Free Africa has now administered more than 2.5 million doses of the NOBIVAC Rabies vaccine. We continue to research the most effective and efficient vaccination strategies to eliminate canine-mediated rabies deaths. The Afya Program supports our efforts especially in hard-to-reach rural villages and surrounding communities in Africa."
– Felix Lankester, DVM, Ph.D., director, Rabies Free Africa, Paul G. Allen School for Global Animal Health, Washington State University
Working with Our Partners, We're Eliminating Rabies
Rabies is one of the deadliest global diseases for both humans and dogs. This is a devastating fact because rabies is 100% preventable through routine vaccination. With canine mass vaccination initiatives being the most cost-effective way of preventing human rabies deaths, these efforts must be brought to all communities in need.
"We are thrilled to reach the five million milestone for donated doses of MSD Animal Health's NOBIVAC Rabies vaccine to help eliminate this deadly disease. By taking a One Health approach to rabies elimination and collaborating with our partners like Mission Rabies and Rabies Free Africa, we can reduce the global burden of rabies and thus achieve better health for both animals and people – a true One Health success."
– Ingrid Deuzeman, global marketing director, Companion Animal Vaccines, MSD Animal Health
This World Rabies Day, join us in eliminating canine-mediated rabies. Learn more at www.afya.org.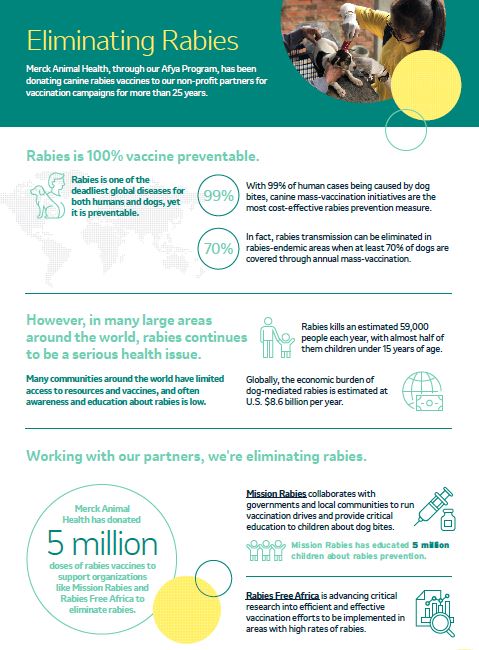 ---
[i] The World Health Organization. Rabies. Accessed June 3, 2022. https://www.who.int/health-topics/rabies#tab=tab_1
[ii] The World Health Organization. Rabies. Accessed June 3, 2022. https://www.who.int/news-room/fact-sheets/detail/rabies