Allflex Livestock Intelligence Launches Solar Power Station Making It Possible to Collect SenseHub™ Data Anywhere on the Farm
Provides Power for SenseHubTM Monitoring Solutions.
STANLEY, U.K., September 2, 2019 – Allflex Livestock Intelligence today announced the launch of a solar power station, which provides off-grid energy to its SenseHubTM monitoring system, thereby making it possible to capture data transmitted from the company's cSenseTM Flex Tag neck collars or eSenseTM Flex Tag ear tags anywhere on the farm.
The Solar Power Station uses an efficient photovoltaic (PV) panel to convert natural daylight into energy, which is used to power a SenseHub antenna in remote locations with no fixed power supply. This makes it possible to monitor groups of cows or heifers, even when they are kept away from the main farm holding or grazing in distant fields. Excess energy is stored in a battery for later use, enabling the system to operate overnight and in low light conditions. The system is easy to erect and dismantle and can be moved from location to location, according to the herd's grazing regime or when animals are moved from one holding to another.
The Allflex Solar Power Station has been developed using technology proven in remote and harsh conditions: It is capable of capturing data from cows at a distance of up to 500m and uses a 3G/4G router to relay information back to the farm over the internet or via a virtual private network (VPN). Alternatively, the data can be monitored remotely via the SenseHub app on a compatible smartphone or internet enabled tablet.
The plug-and-play Allflex Solar Power Station is easy to assemble and is supported by the Allflex Technical Support team and comes with a two-year warranty. It is supplied with the following components:
285W solar panel and base
Solar charge controller (30Amp)
12V TP link 3G/4G router
Tycon DC POE/converter 12V to 48V
3-section aluminium mast/pole
Assorted cables and connectors
The Solar Power Station has been proven to fully charge a 12V AGM Deep Cycle Leisure Battery 85AH in four hours of daylight – enough to provide 24 hours of standby. When equipped with two such batteries, the standby time extends to 48hrs.
For more information go to https://youtu.be/BidYNARp4bI.
Images
(Right click on images and click 'Save As' to download in high resolution)
The Allflex Solar Power Station makes it possible to capture data transmitted from the company's cSenseTM neck collars or eSenseTM ear tags anywhere on the farm.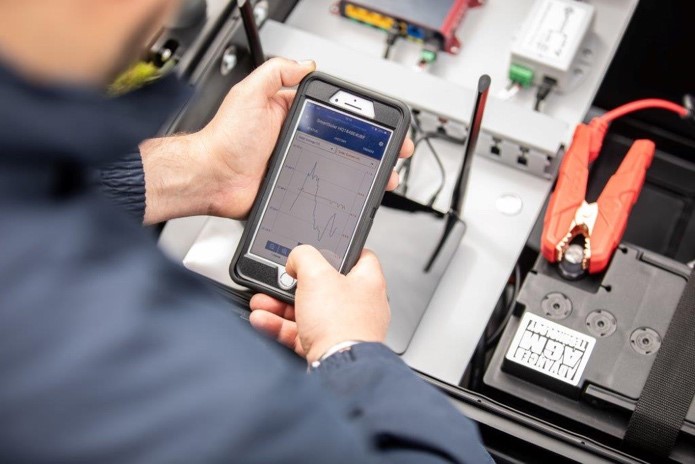 The Allflex Solar Power Station is capable of capturing data from cows at a distance of up to 500m. It uses a 3G/4G router to relay information back to the farm. The data can also be monitored via the SenseHubTM app on a smartphone or tablet.
About Allflex Livestock Intelligence
Allflex Livestock Intelligence is a world leader in the design, development, manufacturing and delivery of solutions for animal identification, monitoring and traceability. Our data-driven solutions are used by farmers, companies and countries to manage hundreds of millions of animals worldwide. By putting intelligent, actionable management information into farmers' hands, our solutions empower them to act in a timely manner to safeguard their animals' health and wellbeing, while achieving optimal production outcomes for a healthy food supply. Allflex Livestock Intelligence is a Livestock portfolio of digital products within MSD Animal Health.
As the largest provider of animal identification technology, we meet growing customer needs by providing over 500 million tags for identifying, tracking and monitoring animals every year and we monitor over 5.5 million cows daily, which allows access to real-time, actionable data and insights to help improve or enhance animal management and health outcomes.
With over 60 years of experience and around 1,900 team members worldwide, we have a global network of experts, each with a great depth of experience and unparalleled knowledge, who provide a valuable resource to farmers, companies and countries. Allflex Livestock Intelligence has manufacturing and technology subsidiaries in North America, Europe, Israel, South America, China, Australia and New Zealand. Our products are distributed in over 100 countries.
Through its commitment to TheScience of Healthier Animals®, MSD Animal Health offers veterinarians, farmers, pet owners and governments one of the widest ranges of veterinary pharmaceuticals, vaccines and health management solutions and services as well as an extensive suite of digitally connected identification, traceability and monitoring products. MSD Animal Health is dedicated to preserving and improving the health, well-being and performance of animals and the people who care for them.
For more information, visit www.allflex.global/uk or connect with us on Facebook or Twitter.
Forward-Looking Statement of Merck & Co., Inc., Kenilworth, N.J., USA
This news release of Merck & Co., Inc., Kenilworth, N.J., USA (the "company") includes "forward-looking statements" within the meaning of the safe harbor provisions of the U.S. Private Securities Litigation Reform Act of 1995. These statements are based upon the current beliefs and expectations of the company's management and are subject to significant risks and uncertainties. If underlying assumptions prove inaccurate or risks or uncertainties materialize, actual results may differ materially from those set forth in the forward-looking statements.
Risks and uncertainties include but are not limited to, general industry conditions and competition; general economic factors, including interest rate and currency exchange rate fluctuations; the impact of pharmaceutical industry regulation and health care legislation in the United States and internationally; global trends toward health care cost containment; technological advances, new products and patents attained by competitors; challenges inherent in new product development, including obtaining regulatory approval; the company's ability to accurately predict future market conditions; manufacturing difficulties or delays; financial instability of international economies and sovereign risk; dependence on the effectiveness of the company's patents and other protections for innovative products; and the exposure to litigation, including patent litigation, and/or regulatory actions.
The company undertakes no obligation to publicly update any forward-looking statement, whether as a result of new information, future events or otherwise. Additional factors that could cause results to differ materially from those described in the forward-looking statements can be found in the company's 2018 Annual Report on Form 10-K and the company's other filings with the Securities and Exchange Commission (SEC) available at the SEC's Internet site (www.sec.gov).