Laboratorios LETI and MSD Animal Health start distribution of vaccine against canine Leishmaniosis
MSD Animal Health and Laboratios LETI have started to jointly distribute the Leishmaniasis vaccine Letifend® in France, Italy and Greece.
Madrid, February 26nd, 2018 –MSD Animal Health and Laboratios LETI have started to jointly distribute the Leishmaniasis vaccine Letifend® in France, Italy and Greece. Great Britain expects to start soon. Canine Leishmaniosis is spread by the bite of certain types of Sandflies.
Therefore, the two companies and European veterinarian specialists on Leishmania met in January at the Laboratios LETI production plant located in the town of Tres Cantos, Madrid, to inform about the benefits and efficacy of the Leishmaniasis vaccine.
Mr. Jaime Grego, president of Laboratios LETI, remarked during the opening of the meeting, "Today is an important step in our history that began in 1919. In 2016 we obtained the EMA approval of Letifend®, in 2017 the distribution agreement with MSD Animal Health for France, Italy, Greece and the United Kingdom and today we are laying the scientific foundations for the prevention of canine leishmaniosis globally to control the spread of this disease in humans."
Dr. Hans-Günther Dittrich, regional vice president MSD Animal Health Europe, Russsia, Africa, Middle East (EURAM), stated that "due to our continuously changing market, MSD Animal Health is always looking for collaborations with the best to maintain leadership in the animal health market. The agreement with Laboratios LETI offers a holistic solution to the terrible disease of Leishmaniosis, reinforcing the protection and care of animal health as well as our commitment to "One Health" in society."
During the meeting, LETI provided the leading European Leishmania veterinarians and representatives of MSD Animal Health of France, Italy, Greece and Great Britain with scientific data of the vaccine, the manufacturing technology background as well as clinical and scientific Letifend® studies. After that the participants were taken on a tour through the Laboratorios LETI facilities where they could see for themselves how the Laboratorios LETI immunotherapies are produced with the highest quality standards.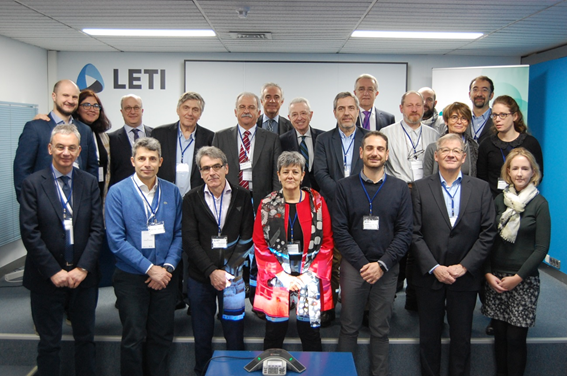 About MSD Animal Health
For more than a century, MSD, a leading global biopharmaceutical company, has been inventing for life, bringing forward medicines and vaccines for many of the world's most challenging diseases. MSD Animal Health, a division of Merck & Co., Inc., Kenilworth, N.J., USA, is the global animal health business unit of MSD. Through its commitment to the Science of Healthier Animals™, MSD Animal Health offers veterinarians, farmers, pet owners and governments one of the widest range of veterinary pharmaceuticals, vaccines and health management solutions and services. MSD Animal Health is dedicated to preserving and improving the health, well-being and performance of animals. It invests extensively in dynamic and comprehensive R&D resources and a modern, global supply chain. MSD Animal Health is present in more than 50 countries, while its products are available in some 150 markets. For more information, visit www.msd-animal-health.com or connect with us on LinkedIn and Twitter.
About Laboratorios LETI
Laboratorios LETI, founded in 1919, is an independent and family-owned biopharmaceutical research company. In its different areas of expertise, it seeks to contribute products to society that add value to human and animal health. Today, immunology, preventive and personalized medicine and biological products are the most important pillars of the company, although its area of influence and product range have significantly diversified.
For more than 25 years Laboratorios LETI has been committed to the development of vaccines for human and canine leishmaniasis, demonstrating its innovative and entrepreneurial capacity. In 2016 the European Medicines Agency (EMA) approved LetiFend® vaccine in all EU member states for the active immunization of dogs to reduce the risk of developing clinical leishmaniais. LETI is now in the process of developing a vaccine against human Leishmaniasis, an illness which is endemic in more than 80 countries, that has some 350 million people at risk in the world.
Forward-Looking Statement of Merck & Co., Inc., Kenilworth, N.J., USA
This news release of Merck & Co., Inc., Kenilworth, N.J., USA (the "company") includes "forward-looking statements" within the meaning of the safe harbor provisions of the U.S. Private Securities Litigation Reform Act of 1995. These statements are based upon the current beliefs and expectations of the company's management and are subject to significant risks and uncertainties. If underlying assumptions prove inaccurate or risks or uncertainties materialize, actual results may differ materially from those set forth in the forward-looking statements.
Risks and uncertainties include but are not limited to, general industry conditions and competition; general economic factors, including interest rate and currency exchange rate fluctuations; the impact of pharmaceutical industry regulation and health care legislation in the United States and internationally; global trends toward health care cost containment; technological advances, new products and patents attained by competitors; challenges inherent in new product development, including obtaining regulatory approval; the company's ability to accurately predict future market conditions; manufacturing difficulties or delays; financial instability of international economies and sovereign risk; dependence on the effectiveness of the company's patents and other protections for innovative products; and the exposure to litigation, including patent litigation, and/or regulatory actions.
The company undertakes no obligation to publicly update any forward-looking statement, whether as a result of new information, future events or otherwise. Additional factors that could cause results to differ materially from those described in the forward-looking statements can be found in the company's 2016 Annual Report on Form 10-K and the company's other filings with the Securities and Exchange Commission (SEC) available at the SEC's Internet site (www.sec.gov).